Research Division of Multiscale Interfacial Thermofluid Dynamics
Director
Masahiro Motosuke; Associate Professor, Department of Mechanical Engineering, Faculty of Engineering 
Research Content
Interfacial thermofluid dynamics from nanoscopic to macroscopic point of view and its application.
Objetcitves
Our research group focuses on thermofluid dynamics which involves interfacial transport phenomena in multiscale and on development of interdisciplinary and interactive activities.
This research division (nicknamed as 'I2plus') was established in the Research Institution for Science and Technology (RIST), Tokyo University of Science, in April 2017, as a subsequent organization of" International Research Division of Interfacial Thermo-Fluid Dynamics (2012-2016)". The aim of I2plus is to expand our knowledge of thermofluid dynamics involving interfacial transport phenomena toward realizing highly efficient heat and mass transfer technologies with low energy consumption and low contamination of environments. According to the activities of the previous division, this division consists of young researchers from Europe, the United States and our university, Tokyo University of Science (Fig. 1).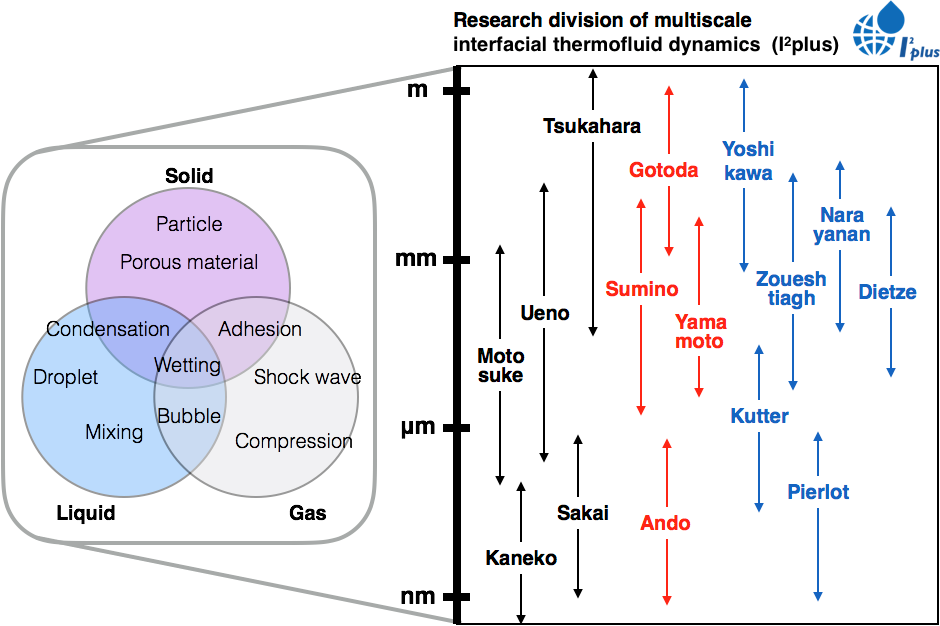 Fig. 1  Important factors of phenomena associating interface within a phase or between/among phases and its scale and relevant research members of this research division (I2plus).
Research
Our division will focus its activities on interfacial thermofluid dynamics in which multiscale physical and chemical processes are involved. In the previous division, we investigated microscopic dynamics of the fluid in the vicinity of the solid-liquid-gas three-phase boundary and to apply it to engineering technologies. This division has been launched as a successive division of the previous one to expand our understanding and technologies to more complicated systems in multiscale and tovarious application fields, especially following topics.
(A) Elucidation of" dynamics wetting" with three-phase contact line interacting withsmall objects
Establish a novel heat and mass transfer theory associated with three-phase contact line and its dynamics from nano/micro/meso/macroscopic description including interaction with small objects
(B) Advanced handling technologies of droplets and particles with the use of fluid flow induced by physicochemical properties distribution or gradient
Develop sophisticated droplet/particle manipulation technologies by means of gradient of gas-liquid or liquid-liquid interfacial tension that is externally induced
(C) Dynamics of association and dissociation of cell and protein with flow
Elucidate detailed mechanisms of specific association and dissociation between endothelial cells and blood cells with the aid of some proteins on the surface of cells including dynamics from molecules to cells
The macroscopic pictures of above topics are basically governed by multiple scales from nanometer to meter scales as in Fig. 1. Therefore, this division will tackle these problems by interdisciplinary, intersectional and interactive collaboration with the members without any border.
International collaboration
Networking is always significantly important especially when we study challenging issues. This research division, I2plus, promotes international collaboration not only within the division but also all over the world to have fruitful discussion and inspiration for achieving our goals. About 40% of division members belong to
overseas universities or institutes, and there are other research collaborators in foreign countries who are not so far I2plus members. Mutual collaborations in their researches among the members and researchers with all the relevant disciplines are highly encouraged. Our international collaboration network now ranges over more
than 10 countries; US, UK, Canada, France, Denmark, Germany, Austria, Belgium, Spain, India, Taiwan, China and so on.
Events
In parallel with the research activities, this division organizes several workshops (I2plus Workshop ) and seminars (I2plus Seminar ) that are open to the public in a year. In the I2plus Workshop , students and faculty members make active discussion through presentations of their latest results. In order to accelerate cross-disciplinary interaction, students are actively encouraged to join the poster sessions. In the I2plus Seminar , we will invite researchers from all over the world who are experts of various relevant fields. Also, according to the activities of the previous division, the international symposium (I2plus International Symposium on Interfacial Thermofluid Dynamics ) will be held. In the first semester of 2017, we hosted a kick-off symposium, two I2plus seminar , one I2plus Workshop and one I2plus International Symposium on Interfacial Thermofluid Dynamics . In the I2plus 4th International Symposium on Interfacial Thermofluid Dynamics , we have invited speakers from Université de Lille 1 (Lille University, France), Université Paris-Sud XI (Paris-Sud University, France), Osaka University (Japan) and Tokyo University of Science (Japan). We had fruitful discussion and exchanged ideas with speakers and participants.
Education
We also make strong efforts to realize mutual exchange of students between overseas universities in order to accelerate interdisciplinary collaborations, and to provide international environments for researches and daily lives for young students as well as faculty members. In 2017, a faculty member stayed at Université Lille 1
(France) to promote the launch of new collaborative research project. Also in the same year, we are planning to send several faculty members and students to foreign universities for different collaboration studies. Also, we are very keen to accept researchers and students from all over the world to enforce our researches. In 2017,
several faculty members from Université Lille 1 (France) and Université Paris-Sud XI (France) stayed in Japan and had active discussion about results from our collaborative research and students from the other European country are planning to stay in Japan to participate the other collaborative work.
Future Development Goals
Final goal of our research division is to establish a leading-edge research group which deals with various interfacial thermofluid dynamics by creating mutual researcher network.
Messege
This research division has been started in April 2017 as a subsequent organization of "International Research
Division of Interfacial Thermo-Fluid Dynamics". The aim of the group is to expand the spatial scale of
concern from micro/nanoscale to multiple scale and the associate application fields through the international
activities on research and education.