Photovoltaic Science and Technology Research Division
Director
Mutsumi Sugiyama: Professor, Departement of Electrical Engineering, Faculty of Science & Technology 
Research Content
Environmentally friendly photovoltaic systems throughout their life cycle
Objetcitves
We aim at the development of environmentally friendly technological approaches that can be applied throughout the life cycles of photovoltaic systems, from construction to installation, operation, and disposal.
Background and aims for establishing the division
Anthropogenic global warming is one of the major problems confronting the 21st century. As one potential solution to global warming problems, it is desirable that energy production be shifted from fossil-fueled sources, such as oil and coal, to renewable energy sources such as sunlight, wind, and substantial biomass. Photovoltaic power generation, in particular, is expected to become a leading source of such renewable energy. As of the end of 2015, approximately 228 GW of installed photovoltaic systems were in operation worldwide, which is an amount that is roughly equivalent to the output of 200 nuclear power plants. As this amount is expected to increase in the future, it is becoming increasingly necessary to develop more environmentally friendly technological approaches that can be applied throughout the life cycles of the photovoltaic systems used in electric power infrastructures.
With this background in mind, the previous division was established in April 2010 and tasked with the missions of accelerating research on photovoltaic power generation, sharing its accomplishments at home and abroad, and contributing to solving problems related to global warming. To further contribute to global warming problem solutions, our research division was renewed in April 2015, and charged with focusing on more environmentally friendly technological approaches that could be applied throughout the life cycles of the photovoltaic systems used in electric power infrastructures.
Members and formation
This research division now consists of the 14 researcher listed in Table 1. These members are selected from a variety of specialties from physics, chemistry, and electrical engineering, to system engineering. Our research system aims at facilitating major developments via synergistic effects, as the division itself focuses on environmentally friendly technological approaches that will lead to the development of solar cells, modules, and total photovoltaic systems that operate in harmony with the natural environment.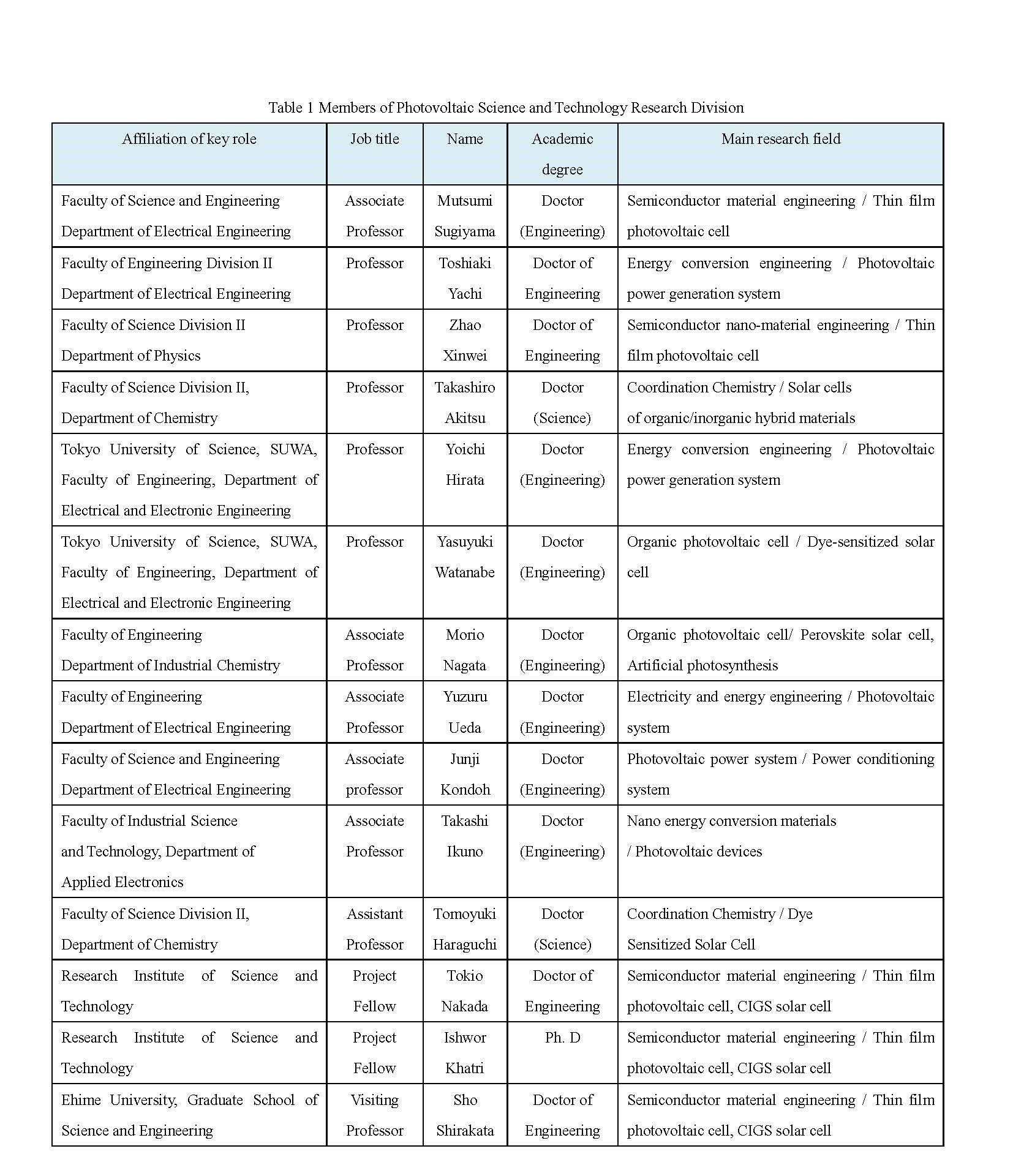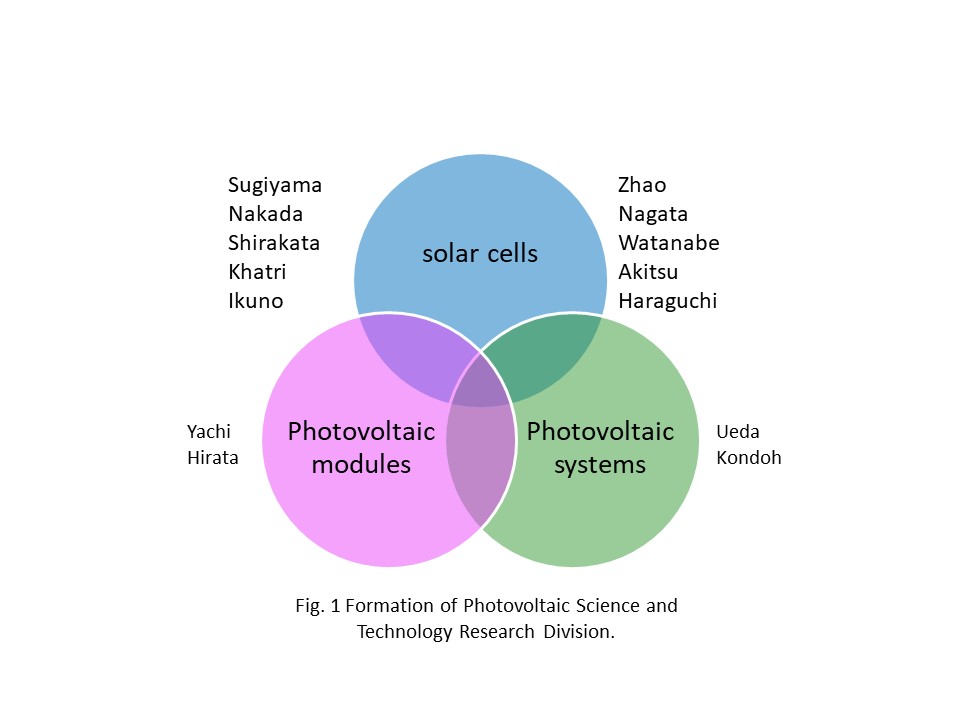 Development aims of the photovoltaic science and technology research division
The following research subjects have been taken up as environmentally friendly technological approaches to photovoltaic systems:
  The development of organic and inorganic thin film solar cells created via environmentally friendly and energy efficient processes.
With the aim of developing products that are gentle to people and the environment at all stages of their life cycles—manufacture, use, and disposal—we are advancing toward the development of solar cells that to not incorporate toxic substance such as cadmium and lead.
The development of tandem modules with solar and thermal cells, and tandem modules that operate via wavelength splitting technology.
The development of solar sharing and matching modules that will make possible for both power generation and vegetation preservation, thus advancing agriculture.
The development of a more efficient photovoltaic generation systems that utilize high-performance energy management technology. It will allow generated electric power to be used without waste.
The development of long-life photovoltaic systems with self-check and self-repair technological functions that will utilize generated electricity more efficiently.
The development of the most suitable photovoltaic system construction and operation technologies based on advanced electric power generation.
Future Development Goals
We will facilitate research and development into next-generation photovoltaic systems by utilizing the aggressive synergy of our division members, which were selected from a variety of different specialties.
Message
This division evolved from the previous photovoltaic generation technology research section that was started in 2010. Our current division members were chosen from different specialized fields, from materials and devices science, to circuits, assembly, and system technology. Our overall goal is the development of infrastructure photovoltaic systems having high degrees of environmentally friendliness.