Division of Ambient Devices Research
Director
Kentaro Kinoshita : Associate Professor, Department of Applied Physics, Faculty of Science Division Ⅰ
Research Content
Creation of ambient devices and establishment of technology for collecting and analyzing extracted big data.
Objetcitves
We aim to create an innovative standalone RFID tag with high-sensitivity sensors consisting of organic or organic/inorganic hybrid semiconductor devices, which are environment-friendly. We also aim to establish new automatic data collection and analysis technology using the data collected.
Creation of ambient devices and establishment of technology for collecting and analyzing extracted big data.
Background to establishing the department
In 2013, the "Trillion sensor concept" was proposed in the United States, in which sensor nodes are attached to all trillions of objects, information is collected, and information science is used to realize a prosperous and safe society. At present, in Japan, "convenience store electronic tag 100 billion pieces declaration" (Ministry of Economy, Trade and Industry) is being promoted to attach electronic tags to all convenience store products by 2025 in order to improve the efficiency of logistics. Such a stick-on type/dispersion type sensor node is called an "ambient device" in the sense that it can be integrated into the environment, and it is expected to form a large market as a post-smartphone. Since the ambient device needs to be lightweight, flexible, and inexpensive, it is necessary to compose all materials including the substrate with organic materials or organic/inorganic hybrid materials. With a view to the mass diffusion of ambient devices, we conduct research on material property control, device creation, and acquired data analysis related to ambient devices, aiming at social implementation.
Contents of our research and development
As an example for the application of an ambient device, we envision a radio frequency identifier (RFID) tag with a sensor for next-generation logistics. With the recent rapid increase in large-scale commercial facilities, expansion of e-commerce, and expansion of logistics services due to globalization, the failure of the conventional logistics system is beginning to become apparent, so there is an urgent need to develop a mechanism for next-generation logistics. There is a wide variety of needs regarding transportation modes, and in order to realize transportation that does not impair the quality and value of food, chemicals, precision equipment, etc., there is an increasing demand for logistics technology in low-temperature and shock-free environments. If an RFID tag with a sensor using an innovative organic semiconductor device is created and a new automatic data collection technology using it is established, a highly efficient, safe and secure logistics service will be realized, and its impact on society will be extremely large. In order to "realize a sensor node with low environmental load and low cost," we construct a sensor node constituent device by precisely controlling the material properties. The devices mounted on the sensor node depend on the purpose, and for example, the sensor node used for future logistics require an acceleration sensor, a temperature sensor, an RF transceiver antenna, a transistor, a memory, and a power supply. A sensor node with low environmental load is realized by constructing the device, including the substrate of each device, with organic materials or organic/inorganic hybrid materials. In addition, the manufacturing cost cannot be ignored for the diffusion of technology. In order to achieve a price of 1/100 of the conventional sensor node (1 yen/sensor node), and we will pursue a low-cost manufacturing process and low-cost material.
System for research and development
Researchers involved in the field of semiconductor devices, functional materials, molecular simulations, and information science who belong to Tokyo University of Science collaborate to realize the concept such as "100 billion tags for convenience store electronic tags" and "1 trillion IoT devices per year" by the creation of innovative ambient devices. Each group actively interacts with each other to search for physical properties, improve device characteristics, and analyze big data. Figure 1 shows the interrelationship among researchers inside and outside Tokyo University of Science and the image of research promotion. In collaboration with the Takeya Group of the University of Tokyo, which possesses the edge technology for producing ultra-thin single-crystal organic semiconductor films that exhibit outstanding device operation speed, we will search physical property from both sides of calculations and experiments, aiming at further improvement of device characteristics. Research can be carried out in the state-of-the-art equipment environment owned by Professor Takeya at The University of Tokyo. Specifically, there are states of the art equipments for forming single crystal organic monomolecular film that is essential to this theme, for forming various organic and inorganic thin film forming devices (both wet and dry processes), for microfabrication (photolithography, laser lithography, wet process), for large screen printing, various electron microscopes, spectroscopes, electrical-, mechanical-, and optical-property analyzers. By using them, we can conduct all the processes for manufacturing ambient devices from organic semiconductor molecule synthesis to device fabrication, evaluation, and large-scale printing process.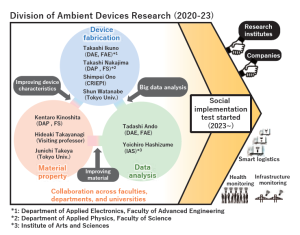 Figure 1  An image of correlation and research promotion among researchers who belong to Research Division of Ambient Devices inside and outside the Tokyo University of Science.
Future Development Goals
We believe that synergies through collaboration with other departments are indispensable to step through the rugged road to device creation and social implementation.
Message
As a research base of organic or organic/inorganic hybrid devices at Tokyo University of Science, experts who are active in various fields such as physical property experiments and theory, semiconductor devices, organic electronics, energy conversion, etc. We will work on a series of research and development from material research, device application, and to social implementation.