Research Division for Advanced Disaster Prevention on cities
Director
Osamu Takahashi : Professor, Department of Architecture, Faculty of Engineering 
Research Content
City Culture, City Planning, City Performances Researches on urban and architectural Design, which are composed of three research fields above. We will contribute to urban re-development and re-design for the existing study area, proposing sustainable urban environment by research results and design studies as scientific knowledge.
Objetcitves
The construction of the city environment plan theory that is sustainable and resilient by updating of modern architecture and urban infrastructure.

Division of Advanced Urbanism and Architecture,The Research Highlight, 2018
City Culture, City Planning, City Performances Researches on urban and architectural Design, which are composed of three research fields above. We will contribute to urban re-development and re-design for the existing study area, proposing sustainable urban environment by research results and design studies as scientific knowledge.
Characteristics of the Research Division
 Nowadays, numerous issues regarding life in highly modernized and industrialized cities are caused by multiple and interrelated factors. Therefore, it is no longer sufficient to form, maintain, and operate a sustainable, resilient, and comfortable urban environment that overcomes these challenges only with the results of specialized and segmented research. However, among those challenges, there is one that has continued since long before the modern era and continues to face us, changing its form in various periods. -Disaster Prevention in Cities.
Even in recent years, the Tohoku and Kanto regions have experienced house collapses, tsunamis, and liquefaction following the Great Eastern Japan Earthquake in 2011; the Kyushu region experienced landslides and disruption of transportation networks following the Kumamoto Earthquake in 2016 and torrential rains at Northern Kyushu region in 2017 and 2020, and the Kansai region experienced the collapse of concrete walls following the Northern Osaka Earthquake in 2018.
Planning for disaster prevention from a more significant point of view, such as disaster risk in cities located in mountainous and coastal areas, has been discussed for some time.
However, unfortunately, the city planning comprehended micro perspectives, for example, examining and managing risks for human and material damages by collapsed or damaged facilities, and malfunctions of urban functions such as infrastructures have not yet sufficiently done.
Therefore, we have re-launched this research division as the "Research Division for Advanced Disaster Prevention on cities" to integrate the perspectives and knowledge of various fields of architecture.
In addition, this research has an aspect of social engineering in the study of political science and is expected by organizations such as governments, companies, and NPOs, in terms of the contribution by Tokyo University of Science of its results to societies.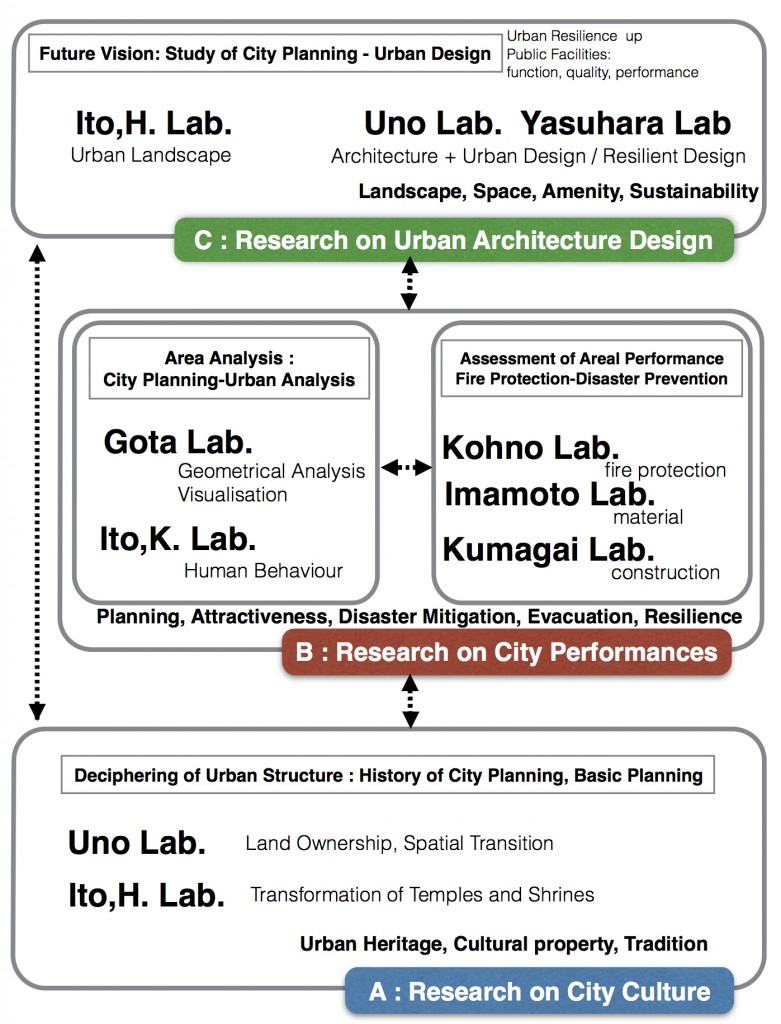 Tbl.1 Research field and partners
Future Development
We will develop regional researches, contributions to local communities, and regional exchanges to the subject area, aiming a modeling of city revitalization plan. And we will generalize to a regional planning, evaluation of a plan, and agreement of a plan. We will also enhance construction and fire safety.
Message
This research division is composed of experts of architecture, city planning and civil engineering. Stuffs belong to Faculty of Engineering and to Faculty of Science and Engineering, and School of International Fire Science. For many years, researchers in this division continue to develop regional researches, contributions to local communities, and regional exchanges with thick accumulation of their researches. We aim to create results to contribute the areal development of Kagurazaka and Sotobori area where is the home of Tokyo University of Science.

Fig.1  Historical Changes of Kagurazaka "Outside of Sotobori", Lecture of Professor Akihisa ITO, April 2014

Fig.2 "Sotobori-Kagurazaka 7 images", CKARD_TUS, April 2014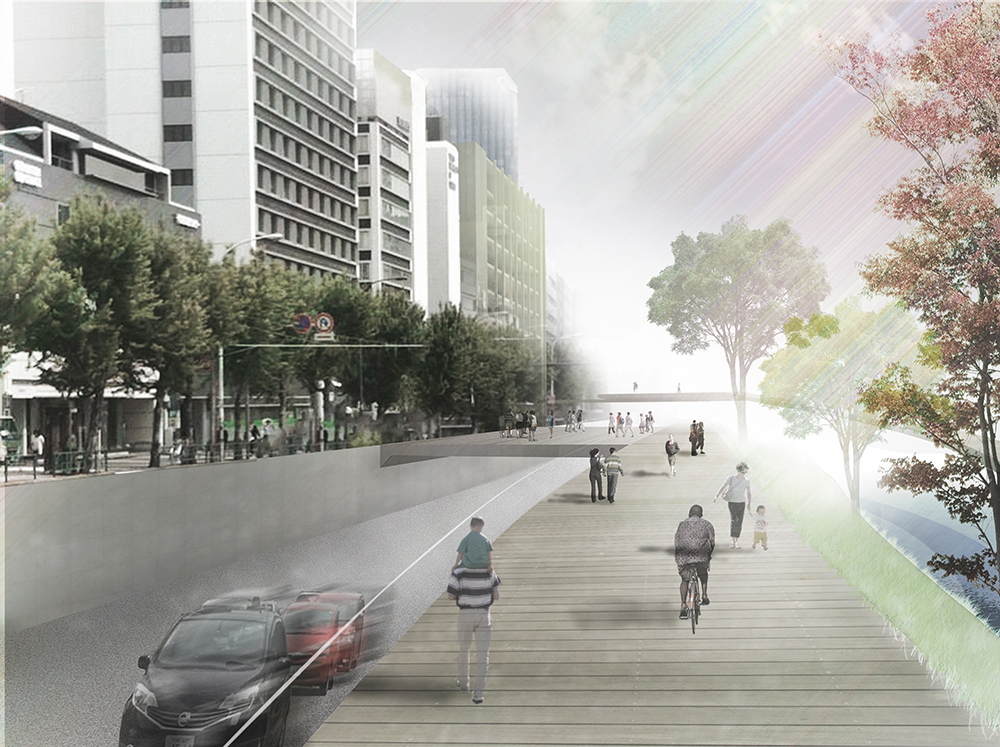 Fig.3 "Brought Close between Town and Sotobori" Proposal to connect town and Sotobori with a barrier-free deck, Sotobori Reconstruction Plan Symposium, CKARD_TUS, May 2014