Advanced EC Device Research Division
Director
Masayuki Itagaki: Professor, Department of Pure and Applied Chemistry, Faculty of Science & Technology 
Research Content
Development of sophisticated EC (Electrochemical) energy device "Only at TUS"
Objetcitves
To develop of novel energy devices by systematic material-to-system researches and establishments of advanced analytical methods specialized for devices.
In recent years, rechargeable batteries and electric power generation systems have drawn much attention as vehicle power sources and stationary power sources for the smart grid, backup and so on. From such background, the world market especially of the electrochemical capacitor, the fuel cell and the lithium-ion battery are predicted to grow outstandingly in the next decade. These devices are also still important as small and safe ubiquitous electric power sources, taking diversification and/or downsizing of portable electric devices into account. More recently, a wearable device for health monitoring becomes a hot topic and thus electrochemical sensors are also expected to be used for the application.
As described above, a demand for the electrochemical (EC) devices gets diversified and sophisticated nowadays, and thus it becomes mandatory to have multidisciplinary cooperation for satisfying the demands. In this division, scientists working on materials for the EC devices and experts on the systems collaborate on the same target, i.e. EC device developments. We also try to apply fundamental analytical technique of electrochemistry, atomic and electronic structures for operando investigations in order to propose appropriate material and/or system depending on the purpose of use. This division pay special attention on the electrochemical capacitor, the fuel cell and the lithium-ion battery as next-generation energy sources, and the members in difference professional fields supply their technical know-how to the device developments.
Our ultimate goal is to produce novel state-of-art EC devices "Only at TUS (Tokyo University of Science)" which meet the needs of the age.
Research on electrochemical capacitor
In the case of the electrochemical capacitor, a research on the electrodes is a key issue. As one of the most promising candidates, we focus on porous diamond thin film and conductive diamond powder because these diamonds are expected to realize high working voltage due to their wide potential window. We also tailor mesoporous carbons with various porous size for high power density electrodes. For developments of different kinds of capacitors, we synthesize redox polymers and inorganic nanosheets which show pseudo-capacities, and develop microsupercapacitors by multidisciplinary cooperation. Through a collaboration with the lithium-ion battery group, the lithium-ion capacitor with much higher capacity is studied as well.
This collaborative policy will enable us to propose many types of new capacitors with different size, capacities, powers and thus various concepts. These devices can be used for a wide variety of situations.
Research on fuel cell
This research has two main targets: that is, a wearable biofuel cell and a high-power polymer electrolyte fuel cell.
As a novel wearable biofuel cell, we manufacture a printable wearable biofuel cell with paper and transfer sheet. For example, a fuel cell using organic material in urine as fuel can be used for urine detection (senior care, health maintenance). By using lactic acid in sweat as fuel, one can check health of athletes. In order to make the wearable device, we prepare carbon materials with meso pore suitable for an enzyme, and develop a printable paper device using the carbons as the electrodes.
In the development of the polymer electrolyte fuel cell, we synthesize a metal complex supported conductive diamond as the electrode catalyst, and develop a novel silicon-based polymer as the electrolyte.
We also try to develop a hydrogen generation system, and systems of the solid oxide fuel cell and the direct methanol fuel cell under close collaboration among material scientists and engineering experts. The electrode reactions are analyzed by in-situ techniques, and feedbacks are given to designing processes of the materials and the systems in order to realize higher efficiencies and power densities.
Research on lithium-ion battery
We aim to perform high-throughput material screening, and device-oriented electrochemical and structural analyses in addition to preparation of high-capacity electrodes whose structures are well-controlled at atomic-to-micro levels.
For optimization of nano- and micro-structures of the electrode, we prepare the powder by liquid-phase synthetic methods like a solvothermal method, and perform a surface coating on the pristine powder.
The high-speed material screening will be carried out by a combinatorial method experimentally, and atomic configurations of the materials are also simulated computationally as a theoretical screening.
In addition, we investigate degradation mechanisms of the batteries under various operation conditions by means of some electrochemical techniques such as the in-situ electrochemical impedance spectroscopy (EIS) and in-situ analyses on the atomic- and electronic-structures using neutron and synchrotron X-ray sources. This strategy enables us to customize an appropriate device design depending on a working condition and a purpose of use.
Throughout these intra- and inter-cooperations in the research groups, we try to produce EC devices only at TUS.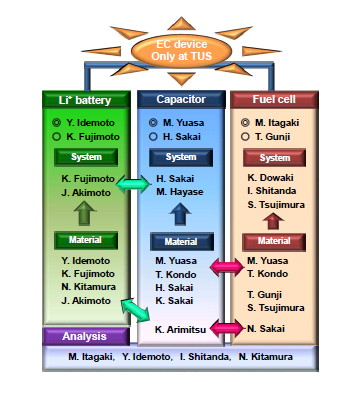 Future Development Goals
To produce EC devices such as the electrochemical capacitor, the fuel cell and the lithium-ion battery based on material design and screening, and device-oriented analyses.
Message
Our division consists from experts on chemistry, biotechnology, mechanical and system engineering with relation to rechargeable battery and electric power generation system. By close cooperation with these professional fields, we aim to develop state-of-art electrochemical energy devices "Only at TUS (Tokyo University of Science)".