Translational Research Center
Director
Yoshikazu Higami: Professor, Department of Medicinal and Life Science , Faculty of Pharmaceutical Sciences
Research Content
Our work applies early stage innovations (seeds) obtained in basic science to develop diagnostic, therapeutic and preventive measures for use in clinical practice.
Objetcitves
To share the benefits of basic research seeds with the medical community through refining scientific innovations, such as new drugs and technologies, developed at Tokyo University of Science (TUS) for successful clinical applications.
About Translational Research
TR involves reevaluating the clinical application and therapeutic potential of basic research findings and technologies and refining these scientific discoveries for clinical use. In other words, TR serves as a bridge between basic research and clinical practice. This is exemplified by the slogan "From Bench To Bedside!" which is used often in the United States.
History of the TR Division's Establishment
Although Japanese researchers have produced many outstanding seeds from their basic research, TR—which is needed to bring these research results to life in clinical settings—has not yet gained sufficient ground in Japan and is one of the major obstacles to the development of new drugs and medical technologies. Excellent basic research has been conducted by many departments at TUS, and we have
amassed a large number of seeds with the potential to contribute to the medicine of tomorrow. We have a very small number of connections with medical institutions because TUS is not affiliated with hospitals. This has made it difficult for TUS to share the benefits of its basic research achievements with healthcare professionals.
In recent years, universities have begun to develop a TR research system for the clinical application of their basic research seeds by establishing a TR division. At TUS, we also established a TR Division in 2009, to serve as a liaison point for joint research with medical institutions. Thanks to the staff's dedicated efforts and their major research results, the TR Division was expanded into t he T R C enter in April 2014. To promote TR further at TUS, we must collaborate with medical institutions to identify clinical applications for our seeds.
Research Objectives
The mission of the TR Center is to help researchers at TUS perform, in collaboration with the Faculty of Medicine and other medical institutions, innovative investigations that bridge basic and clinical research and that subsequently turn the research seeds into novel health care products and other clinical applications.
To succeed in our mission, we take the following three approaches:
(1) Promote the development of novel drugs, drug delivery system (DDS), diagnostic techniques and medical technology for clinical use.
(2) Perform drug repositioning (drug repurposing) by re-profiling the pharmacological properties of known drugs or chemical compounds whose development was previously terminated due to a failure to deliver therapeutic effects.
(3) Promote the clinical application of novel drugs and technologies developed at TUS in collaboration with medical institutions.
Members of the TR Division and Their Research Themes
As of writing in June 2018, the TR Center houses 19 in-house researchers (14 from the Faculty of Pharmaceutical Science, 3 from the Faculty of Science, 1 each from the Faculty of Science and Technology, and 2 from Faculty of Industrial Science and Technology) and 31 visiting research fellows from outside the TUS community.
In-House Researchers (19)

Faculty of Pharmaceutical Science:
Yoichiro Isohama, (Applied Pharmacology);Masayo Komoda (Medical safety sciences); Tsugumichi Sato (Pharm acoepidemiology,Therapeutic risk management); Takehisa Hanawa, Yayoi Kawano (Clinical design);Tatsuya Higashi, Shojiro Ogawa (Bio-analytical chemistry); Makiya Nishikawa(Biopharmaceutics); Yasunari Mano (Clinical Drug Informatics); Kazumi Yoshizawa(Pharmacology and therapeutics); Kazunori Akimoto (Molecular Medical Science);Yoshikazu Higami, Masaki Kobayashi (Molecular pathology and metabolic disease);Takeshi Wada, (organic synthetic chemistry, Life Molecular science ),
Faculty of Science:Hidetaka Torigoe (Biochemistry), Hidenori Otsuka (Colloid and interface science),
Faculty of Science and Technology: Keiko Sato (Bioinformatics),
Faculty of Industrial Science and Technology: Chiharu Nishiyama, Takuya Yashiro (Immunology,allergy and molecular biology)
Universit y of Tsukuba: Ichinosuke Hyodo, Akinori Yanaka, Hideo Suzuki (Gastroenterology); Akira Matsumura (Neurosurgery); Nobuhiro Ohkohchi (Surgery); Yoshinori Harada (Critical research and education integrated leading center); Masayuki Noguchi (Diagnostic pathology); Hitoshi Shimano, Yoshimi Nakagawa (Endocrinology and metabolism),
National Cancer Center Research Institute: Yasuhito Uezono (Cancer Patho-Physiology); Michihiro Muto (Cancer Prevention Basic Research), The Jikei Universit y School of Medicine: Takashi Sasaki (Diabetology),
Tokyo Medical Univeristy: Yasushi Matsuzaki (Hepatology),
Yokohama City University: Tetsuya Yamamoto (Neurosurgery),
Tokyo Metropolitan Institute of Gerontology: Kazuhiro Shigemoto (Geriatric Medicine),
National Institute of Infectious Diseases: Masayoshi Fukasawa (Virology),
Juntendo University Hospital: Yoshiya Horimoto (Breast Cancer), Toshifumi Ohkusa (Gastroenterology);
Kitazato University: Sachie Hamada (Physiology),
Tomonaga Clinic Hospital: Osamu Tomonaga (Diabetes and lifestyle-related diseases),
Yuukikai-Hokuo Hospital: Takuya Matsunaga (Hematology),
Saga University: Hiroaki Kodama (Chemistry and applied chemistry); Mitsuru Noguchi (Urology),
Nagasaki University: Isao Shimokawa, Ryoichi Mori (Pathology); Susumu Eguchi (Transplantational surgery); Tomoshi Tsuchiya (Surgical oncology),
Osaka University: Ken Ishii (Immunology); Koji Yamamoto (Translational and clinical research),
Sasaki Institute: Takao Sekiya (Pharmaceutical science),
Sanyo-onoda City University: Naoyuki Okita (Molecular biology); Takuya Iyoda (Molecular patho-physiology).
Ongoing Projects Conducted in Collaboration with Visiting Research Fellows
(Collaborative Institutions)
1. Development of functional foods for the prevention of cancer and lifestyle diseases (University of Tsukuba)
2. Development of glioblastoma treatment targeting the tenascin-C molecule (University of Tsukuba)
3. Development of transplantable regenerative lung by modulation of integrin (Nagasaki University)
4. Discovery of calorie restriction mimetics that extend healthy lifespan (University of Tsukuba, Sasaki Institute, Nagasaki University)
5. Development of antisense oligodeoxynucleotides that accelerate skin wound healing (Nagasaki University)
6. Development of antisense oligodeoxynucleotides that treat bladder carcinoma (University of Hawaii)
7. Development of PARP inhibitor with novel molecular mechanism (Nagasaki University,Saga University, Sasaki Institute, University of Hawaii)
8. Clinical trial of bath therapy using the antiscabietic agent ivermectin
9. Development of preventive medicine for colon cancer using big data analysis (National Cancer Center)
10. Development of science-based kanpo medicine that improves QOL of cancer patients (National Cancer Center)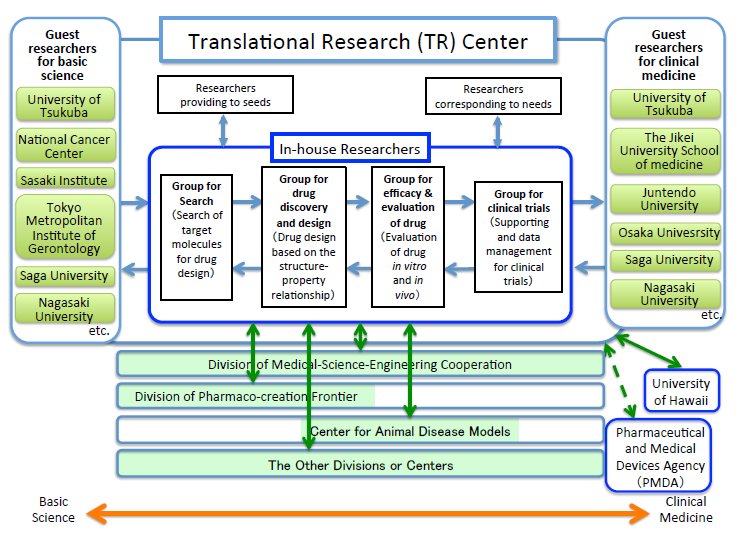 Fig: Research Organization of TR Center, Cooperation of In-house Researchers and Guest Researchers
Future Development Goals
We expect that ongoing joint research projects between the Translational Research (TR) Center and collaborating medical institutions will bear fruit in the near future. We also plan to conduct more joint research projects based on the discovery of new seeds at TUS and the needs proposed by medical institutions in Japan. Moreover, we will also promote international collaborative research with University of Hawaii Cancer Center.
Message
The TR Center was founded to perform joint research with medical institutions for the purpose of transforming basic research seeds developed at TUS and applying them in clinical practice. Our Center welcomes researchers who are interested in the clinical application of their research seeds.