Photocatalysis International Research Center
Director
Akira Fujishima,Distinguished Professor
Research Content
Establishment of the practical integrated system for environmental cleanup and energy production by deepening photocatalytic technologies
Objetcitves
PIRC conducts photocatalytic researches on self-cleaning, environmental cleanup, and artificial photosynthesis and considers novel applications. PIRC aims R&Ds promoting the photocatalytic technology to the next-stage.

Photocatalysis International Research Center,The Research Highlight,2018
History of PIRC
As a center for strategic R&Ds of an integrated photocatalytic system indispensible for enhancing competitiveness of photocatalysts and related industries, and nurturing excellent global people who will take the green innovation by photocatalysts, the Ministry of Economy, Trade and Industry (METI) selected PIRC for the Innovation Center Establishment Assistant Program. The former division (The Division of Energy and Environment Photocatalyst) was dissolved in favor of PIRC in April 2013.
Application of Photocatalysts and Remaining Problems
Photocatalyst is a Japan-origin technology and Japan has been a leader in this research field. Photocatalyst has been attractive as a promising technology to solve energy/environmental problems. Titanium dioxide (TiO2) is a representative example of photocatalysts. When ultraviolet (UV) light, which is included in the sunlight, is irradiated, TiO2 shows "oxidation power" and "superhidrophilicity". Oxidation power is useful for deodorization, sterilization, and antifouling, while superhidrophilicity is useful for antifogging and antifouling (self-cleaning). From a perspective of artificial photosynthesis, complete water splitting producing hydrogen and oxygen in stoichiometric ratio by the Honda-Fujishima effect has been studied aggressively for many years, although its practical use has not been achieved.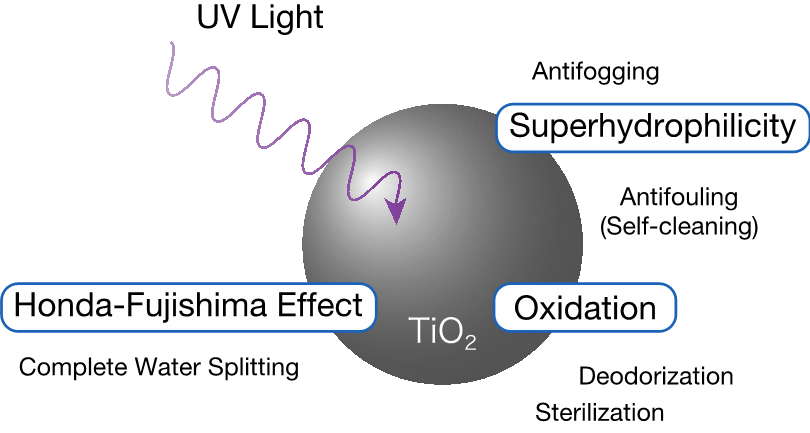 Recently, photocatalysts and its related technologies are applied for housing, purifier, and life/medical filed. An international cooperative project on standardization of photocatalitic evaluation (ISO) is in progress. However, several problems are still remaining. The development of a highly-efficient visible light-active photocatalyst enables to purify the inside of a room under a fluorescent light and the establishment of the sterillization/medical treatment system integrating cell biology/microbiology and potodynamic therapy are examples. Constricting photocatalytic water splitting system producing practical amount of hydrogen has been a big issue since the first discovery of photocatalysis. Furthermore, several tasks such as the establishment of artificial photosynthesis regarding to the reduction of carbon dioxide (CO2) and its recycling are undertaken at national level.
Aims of PIRC
PIRC aims to overcome the remaining problems on photocatalysts based on our achievements. PIRC also develop an integrated photocatalytic system on practical environmental cleanup/energy production through empirical researches between industry-academia-government collaboration.
Research Organization of PIRC
PIRC not only conducts the latest researches but also aims to create a hub where researchers both inside and outside TUS can join. The feature of PIRC is nurturing human resources and promoting international exchange through the participation of young scientists from both Japan and foreign countries. PIRC also invites research collaborator from other research institutes and industries and widely conducts from basic studies to product/market developments. By utilizing these, PIRC conducts photocatalytic studies.
Although PIRC conveniently divides elemental technologies on photocatalyst in three units, each unit cooperates. By integrating elemental technologies developed at each unit, PIRC creates a high-performance photocatalyst and a novel functionalization. PIRC prepares the system with public institutes and private companies for activation of photocatalytic industries.
Activities at PIRC will launch a new scientific/technological field for energy/environmental problem solution. In addition, obtained results on material development and its fabrication process would bring a ripple effect on a peripheral research field.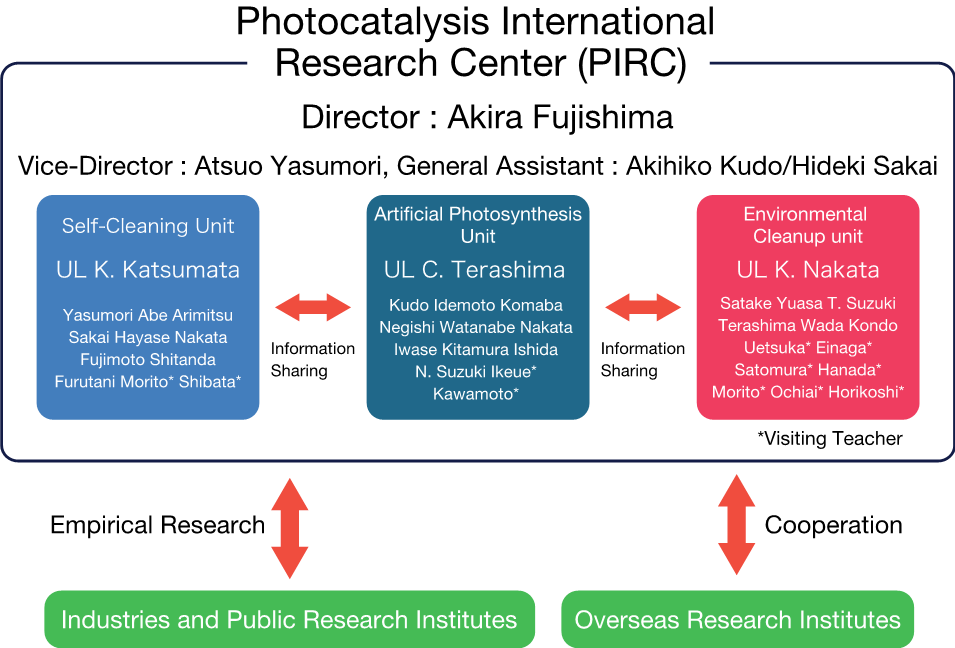 Research theme
Self-Cleaning Unit
  Self-cleaning effect of photocatalyst (especially TiO2) is achieved by using "oxidation power" and "superhydrophilicity" under UV light and widely used in various applications. However, there are several important issues such as a highly durable coating on organic glass/vehicle body and a measure against the change of interior light source (from fluorescent lamp to white LED lamp). This unit studies on self-cleaning materials for interior/exterior and coating technique of photocatalysts. We work on morphological control of photocatalyst particles, coating materials (such as shape processing, survey for inorganic/organic base material), combination with functional materials (such as organic polymer/glass), and survey for visible light-active photocatalysts.
Artificial Photosynthesis Unit
As clean energy-production system, hydrogen-producing technology in which water is split and energy-conversion technology in which hydrocarbons are formed by CO2 reduction with photocatalyst and solar light are known as an artificial photosynthesis and aggressively studied research fields. Studies on artificial photosynthesis started from the Honda-Fujishima effect reported in Nature in 1972. However, artificial photosynthesis has not practically used because the solar to hydrogen efficiency is still low even now. This unit works on the development of highly efficient novel (electro) photocatalysts for water splitting and CO2 reduction. We also study an integrated system of electric power generation and its storage for the effective use of solar light.
Environmental Cleanup Unit
It is well known that strong oxidation of photocatalyst shows antibacterial and antivirus effect and photocatalyst-coated tiles are introduced as interior of an operation room in a hospital. This unit conducts basic studies such as an analysis of sterilization mechanism and spore inactivation by photocatalysts. In addition, as biological applications of photocatalysts, we work on the improvement of seed germination and rare sugar production.
Future Development Goals
PIRC produces original and cutting-edge research results for the photocatalyst market expansion and aims to be the worldwide hub of this field.
Message
There are still various possibilities and chances on photocatalysts and challenging toward these is important. PIRC leads the spread/development of photocatalysts by public relations as well as training for and excellent global people who will take the green innovation.