Center for Animal Disease Models
Director
Yoichiro Iwakura: Professor, Research Institute for Biomedical Sciences
Research Content
Elucidation of diseases mechanisms and development of new therapeutics through generation of gene-modified mice.
Objetcitves
To elucidate pathogenic mechanisms of diseases such as autoimmune, allergic and neurological diseases and tumors, and develop novel therapeutics against these diseases

Center for Animal Disease Models,The Research Highlight, 2018
The Aim
Center for Animal Disease Models (CADM), Tokyo University of Science (TUS), was established in 2013, supported by the MEXT Strategic Research Foundation at Private Universities. In April 2018, as a subsequent organization, this center was reorganized for further promotion of research activity. Animal disease models are indispensable for investigation of causes of human diseases and development of
therapeutic agent, treatment, and functional food. Animal experiments have made great contribution to the progress of human health and life-science research. Many of them were achieved by using gene-modified mice, and as the researchers who developed the method of generating gene-modified mice have won the 2007 Nobel Prize, gene-modified mice are greatly useful for the analysis of the function of
disease related genes.
CADM try to clarify the mutual relationship between gene function and cause of onset for diseases that are a social problem such as autoimmune diseases, allergy, lifestyle diseases, cancer, neurological diseases, and aging by using gene-modified mice of disease related genes. We try to address these big challenges by collaborating with the researchers of biological- and life-science field in TUS.
Furthermore, we are aiming to form research hubs of animal model diseases in TUS to develop new therapeutic agent, treatment, and functional food. We are expecting that new therapeutic drugs and therapies will be developed through the activities of this research center.
Research Groups
CADM set up a developmental engineering team to support the generation of gene-modified mice in the center and we will promote the generation and supply of genetically modified mice. Each group in the center promotes cross-sectoral collaborative research by sharing gene-modified mice and analytical methods such as animal disease models.
1. Immune Disease Research Group (Yoichiro Iwakura, Masato Kubo, Daisuke Kitamura, Haruo Kozono, Tomokatsu Ikawa, Shuhei Ogawa, Ce Tang, Soo-Hyun Chung, Sachiko Kubo, Yosuke Harada, Yoichiro Isohama, Chiharu Nishiyama) Based on the generation and functional analysis of gene-modified mice of the genes such as inflammatory cytokines, innate immunity receptors and signaling factors, we aim to develop novel therapeutic agents and functional foods for autoimmune diseases and allergies.
2. Organogenesis/Regeneration Research Group (Ryo, Goitsuka, Shunsuke Kon, Tomoko Masaike)
This research group analyzes the molecular mechanisms of organogenesis, organ maintenance, and movement of cell organelles by generating gene-modified mice, which have genetic mutation involved in these events. This group also investigates the association between abnormality of these events and
carcinogenesis. Finally, we aim at application to cancer therapy.
3. Mental/Neurological Disorder Research Group (Teiichi Furuichi, Takeshi Nakamura)
This group analyzes the mechanism of the onset of mental and neurological disorders by using animal disease models caused by dysfunction of neural circuit formation related gene. This group aims at application to therapy of mental and neurological disorders.
4. Cancer Research Group (Kouji Matsusima, Tatsunobu Mizuta, Naoko Nakano, Satoshi Ueha, Masayuki Sakurai, Yuya Terashima, Masahito Sadaie, Mitsutoshi Tsukimoto, Kazunori Akimoto)
This group investigates the mechanism of cancer development at the molecular, cellular, organ, and individual levels by generation of gene-modified mice involved in the onset of cancer. This group aim to develop anticancer therapy by elucidating the functions of responsible gene.
5. Advisory Committee (Makoto Asashima, Kazuhiko Yamamoto, Ken-ichi Yamanura, Naoko Otani, Kensuke Miyake, Gaichi Higami, Hiroyasu Esumi) The member of Advisory Committee "Consisting of experts inside and outside TUS" instructs and advises on the operation of the center, research policy,
individual research contents, etc.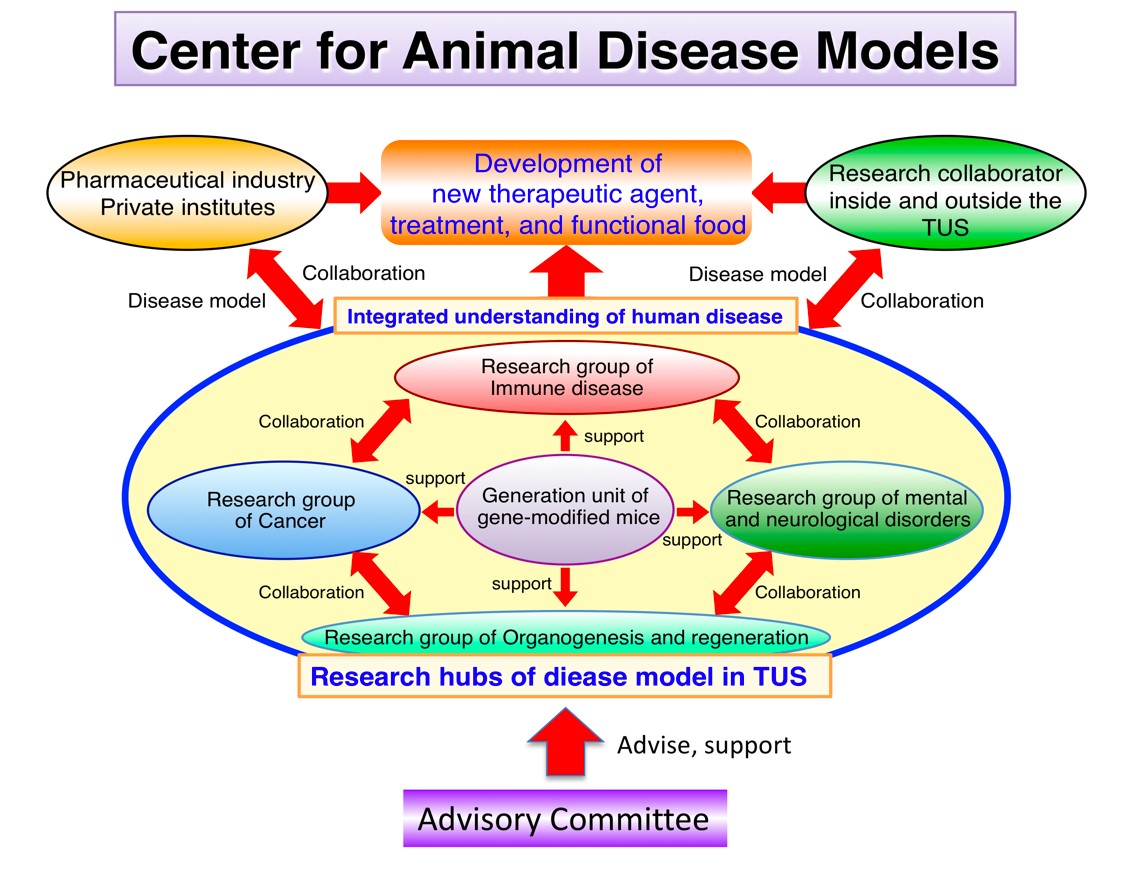 Research Supporting Activities (2013-2017)
Generation of gene-modified mice:       43 lines
Cryopreservation of embryos:          153
Pups from frozen embryos:           46
Microbial cleaning :                    50
Supply of gene-modified mice:          294
Future Development Goals
To get more insight into disease pathogenesis and to develop new therapeutics through cross-research field collaboration in Noda area.
Message
The homeostasis of our body is maintained through concerted actions of many genes. Therefore, it is critically important to elucidate gene functions in order to develop new therapeutics. I believe that we will be able to develop novel drugs and therapeutics through the collaborations of our research groups.